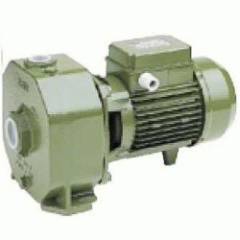 ---
CB - Electric pumps Multi-Stages
---
APPLICATIONS
- For mechanically and chemically non-aggressive fluids.
- Water supply.
- Household systems.
- Automatic distribution of water with small or medium tanks (autoclaves) for irrigation.
- Pressure increases in water mains.
CHARACTERISTICS
Pump body and motor support in cast iron.
Pressed brass impellers or thermoplastic resin.
Thermoplastic resin diffusers.
Rotor shaft in stainless steel AISI 431.
Mechanical seal in carbon/ceramic.
Asynchronous electric cage motor closed in an aluminium case and externally ventilated.
Protection level: IP 44.
Insulation class: F
Standard voltage 230-400V / 50Hz
SPECIFICATIONS
Capacities of flow up to 15 m3/h
Heads up to 85 m.
Temperature of pumped liquid -15°C -70°C
Maximum working pressure: 10 bar
Maximum ambient temperature: 40 °C (contact our technical department for higher temperatures).
Manometric suction lift: 8m.
Tolerance of hydraulic specifications.
UNI/ISO 2548 class C appendix B.
---