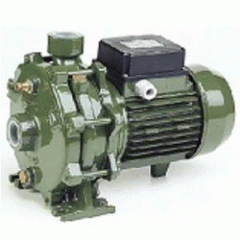 ---
FC - Electric Centrifugal pumps with two opposite impellers
---
APPLICATIONS
Industrial water supply, pressurized water using pressure vessels (autoclaves), various horticultural and agricultural irrigation applications, civil and domestic water transfer schemes, boiler and chiller and refrigeration systems.
CHARACTERISTICS
Pump suction, discharge body, also motor support in cast iron.
Impeller pressed brass.
Mechanical seal in carbon/ceramic.
Rotor shaft in steel fitted with seal for life bearings.
Totally enclosed fan cooled motor (TEFC).
Single phase motors with a built in thermal overload protection on request, the capacitor is permanently in circuit.
Motor protection to IP44 (available in IP55 upon request).
Winding Insulation to class F.
Standard Voltage: 230V-50Hz single phase
230V/400V-50Hz three phase up to = 4 kW, 400V/690V-50Hz for powers > 4 kW.
Other voltages and frequencies available upon request.
SPECIFICATIONS
- Capacities up to 18 m3/hr
- Heads up to 96 meters
- Liquid quality required clean free from solids or abrasive substances chemically non aggressive.
- Maximum Temperature of pumped liquid -15°C to +70°C
- Maximum ambient temperature 40°C. For higher temperatures please contact the sales office.
- Maximum working pressure 10 bar.
The tolerances of the hydraulic features are according toUNI / ISO 2548-Class C, Appendix B, electric features according to C.E.I.
The working features listed in the catalogue are based on continuous service for clear water with a specific weight of 1000 kg/m3.
Manometric suction lift of 8 meters with a foot valve, for a suction of above 5 meters it is advisable to install the suction pipe with the internal diameter larger than the pump inlet.
---