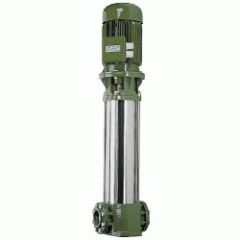 ---
CWM-201 - Multistage Vertical Electric Pumps
---
APPLICATIONS
Compact multistage vertical electric pumps, suitable for lifting installations with or without autoclaves, fire-fighting installations, irrigation systems and wherever elevated pressures are required.
CHARACTERISTICS
G20 cast iron spider.
G20 cast iron base.
X5CrNi1810 stainless steel tube.
G20 cast iron diffusers.
Pressed P-CuZn40 brass impeller.
AISI 431 stainless steel shaft.
Mechanical seal: sliding faces in hard metal, seals in ethylene propylene rubber.
Bronze bushings.
Stainless steel sleeves with ceramic lining.
EPDM rubber seals.
SPECIFICATIONS
Maximum temperature of liquid 120°C.
Max. operating pressure 40 bar.
In-line connectors, available on request, can be coupled to counter flanges.
Fitted with standardised vertical motor sized according to UNEL 13118; V1 arrangement; protected to IP55, class F insulation.
---